Islam
"أَفَمَنْ شَرَحَ اللَّهُ صَدْرَهُ لِلْإِسْلَامِ فَهُوَ عَلَىٰ نُورٍ مِنْ رَبِّهِ"
"Is one whose heart Allah has opened to Islam, so that he has received Enlightenment from Allah"
>>Introduction:
Islam is the second largest religion in the world with over 1 billion followers.
There Prophet is Muhammad.
Muslims book is the 'Qur'an'.

---
>> Beliefs:
Allah is the one and only God.
Angels are real creature.
Belief in the holy books "Qur'an,bible".
Belief in the Prophets.
Muhammad (peace be upon him) is the final prophet.
The Day of Judgement.
The Predestination.
---
>>Pillars:
The Five Pillars of Islam:
Shahadah: "There is no God but Allah, and Muhammad is his messenger."
Salat: Salat is the daily ritual prayer enjoined upon all Muslims as one of the five Pillars of Islam. It is performed five times a day by all Muslims.
Salat al-fajr: dawn, before sunrise.
Salat al-zuhr: midday, after the sun passes its highest.
Salat al-'asr: the late part of the afternoon.
Salat al-maghrib: just after sunset.
Salat al-'isha: between sunset and midnight.

Sawm (Fasting):is the act of fasting in Islam, and usually refers to the fasting done during the month of Ramadhan .

Zakat (obligatory charity): Zakat is a specific, standardized percentage of one's extra wealth (over and above the necessities of life) that must be given to the poor and those in need.

Hajj: Once a year to Mecca.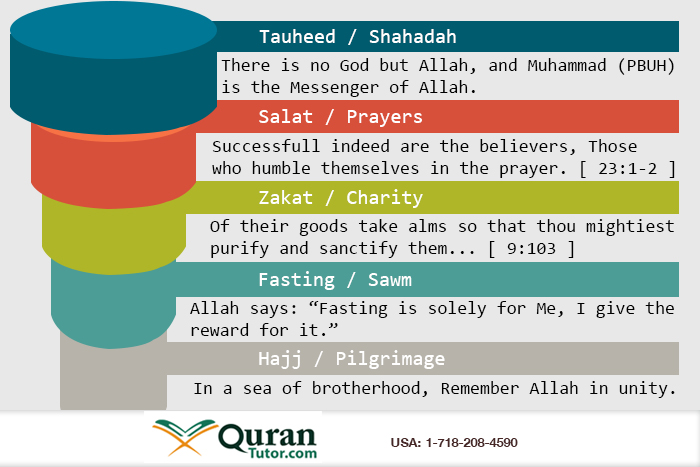 ---